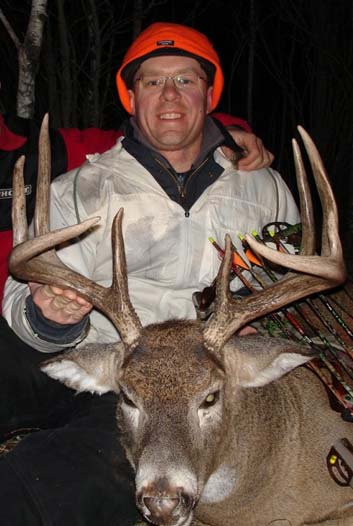 Hello! My name is Brandon Robbins. I grew up on a ranch just south of a little town in Saskatchewan called Laura. All of my life, I grew up working alongside my Dad with cattle and horses. I knew from the time I was 3 or 4 years old, and I had my first ride on a horse, and eventually could help my Dad with his cows, that ranching was what I wanted to do.

But by the time I was sixteen years old, I had decided that I also wanted to take up hunting. Many people in the area were hunters, and it sounded like fun. So I took my firearm safety course, passed with flying colors, and realized I'd found my true passion. I loved being outside, being "one with nature" you might say! I shot my first deer when I was sixteen years old.

I went to school and graduated from a very small school in Harris, Saskatchewan. After high school, I went out to Medicine Hat to work on the rigs. I guess it was just to be on my own for awhile. I came home after a few years there, and worked as a ranch hand for a neighbor and friend of my parents. And that's when I met my beautiful wife, Jennifer.

A few months after we got together, I got a job at the Agrium Potash Mine at Vanscoy, where I currently work as a lead hand doing maintenance and construction work. Working down in a hole 3600 meters underground is not exactly a glorious job, but it's an excellent paying job with great benefits.

Jennifer and I got married in September of 2003. The following year, we moved out to a ranch of our own, which isn't far from where I grew up. Jennifer was pregnant with our first child, and in November of 2004, we had a little girl named Olivia. Becoming a father was the most amazing and exciting moment of my life. Soon after, I bought my very first herd of cattle. Only twenty five to start with, but it was a start, and now I was doing what I loved to do, and still alongside my Dad down the road. About nineteen months later, in June of 2006, we had another little girl named Hannah. Both of our babies are exceptional, and I am the luckiest man ever!

These days, I don't get a whole lot of time to go hunting. Between working full time at Agrium, looking after a herd of now 85 cows, and also trying to make sure I spend lots of time with all three of my girls, it doesn't leave many days to get out in the bush. And what makes it even harder is that the star of Live 2 Hunt, my wonderful, demanding brother Cody, tells me I'm only allowed to hunt where he says I can, and I'm only allowed to hunt if I have a cameraman with me to film the hunt. So I have to try to schedule a day with him when he's not taking out every other buddy of his already. It kind of seems more like work hey?? He did finally pull through for me. Three days before the season was over, I shot a really nice whitetail with my bow. But in all seriousness, I love hunting with Cody, and it will be a wonderful experience to be with him on the Live 2 Hunt team!!