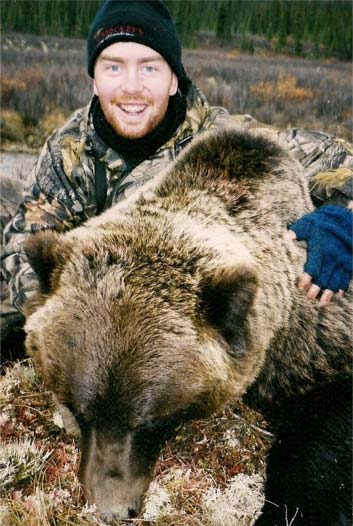 I was born and raised on our family farm, located in central Saskatchewan, Canada. Riding horses and working with cattle was our way of life. I learned from my father every step of the way. Since I was very young I have had a love for animals that has not faded.
When I started kindergarten in a little town called Harris, SK I met my best friend, Shane Hunter. Shane's entire family were hunting fanatics. No one in my family hunted. To be honest, in the beginning, I did not like hearing all of Shane's stories about hunting and trapping.
Having grown up on a farm, there were always a few guns around the house. My dad always kept them in case we had a sick animal that needed to be put down or if there was a coyote threatening the herd. Due to the fact that there were guns around, when I turned eleven, dad enrolled me in a firearms safety course. I had to miss a hockey tournament to take the course, I was not impressed. I guess sometimes things happen for a reason because that course developed a curiosity that was impossible to ignore.
Later that fall when I turned twelve, I asked Shane if he and his father would take me hunting for the first time. It was during this hunt that the roots of my passion were planted. I did not get a deer that fall but it did not matter to me. I realized hunting wasn't just about killing. In fact the killing was only a very small part in the incredible sport I had come to love.
By the time I turned fourteen I was an avid bow hunter. Up to this point no one else in my family hunted so most of my hunting adventures were solitary. Saskatchewan regulations do not allow anyone under the age of sixteen to hunt alone. Luckily for me, my 75 year old grandmother was kind enough to come out and spend countless hours in the blind sitting quiet as a church mouse as I waited for my prey to pass us by.
At the age of sixteen I was a diehard hunter and loved to entertain everyone with my hunting stories. I decided to buy a video camera and try to capture my experiences on film so that I could show my friends exactly what was happening each time I was in the woods. I filmed as an amateur for a couple years before deciding to take my cinematography to a new level. I quit my job as a guide for a local whitetail and bear outfitter. A great friend of mine, Bentley Coben, found a used professional camera and bought it for me. From this point on I lived in the woods, videotaping whitetail and mulie bucks until I was blue in the face.
Late that September, I captured some footage of an amazing whitetail buck. He was very close to 200 inches Boone $ Crockett. The footage was fantastic. I was hunting with a good friend who is a cousin of Jim Shockey. He told me that Jim was on his way out to Saskatchewan to hunt the giant whitetails in the next few weeks. When his cousin told him about the amazing buck we had filmed, Jim asked to see the footage and possibly hunt the buck when he arrived. When he saw the footage of the buck, Jim asked me to be his cameraman for the season. Without hesitation I agreed. Jim and I hunted that amazing buck every day for the next month. Finally, near the end of November we crossed paths with the incredible brute again and I captured Jim making the perfect shot at 130 yards.
After that whitetail Jim informed me that he was planning on starting a television show on the Outdoor Channel that coming summer. He asked if I would be his full time cameraman and editor. Again, without hesitation I agreed. I have been cameraman, editor and co-host of Jim Shockey's Hunting Adventures ever since.
During the first two years of the show it was only Jim and I. As the popularity of the show increased, Jim hired more cameramen and editors to expand the show to 26 original episodes per year. I have travelled and hunted with Jim Shockey in over 15 countries. Three years ago I started guiding for Jim in his Black Bear territory on Vancouver Island. I also guided for Jim in the Yukon Territories for Moose, Grizzly Bear and Caribou. I made sure that I never went into the field without my camera rolling over my shoulder. With Jim as my teacher during the past 6 years, I have had innumerable unique experiences that I would not have otherwise had.
While working with Jim Shockey I have received numerous awards such as The Golden Moose Awards for Best Camera Work, and The Outdoors Writers of Canada Award for The Best Television Show (for which I did the camera work and editing).
With the dream of producing my own show, I have begun creating a television show called Live 2 Hunt. In order to make this show a huge success, I have teamed up with some friends and great hunters that I have met along the way, each of which share the same dreams that I have. They too… Live 2 Hunt.