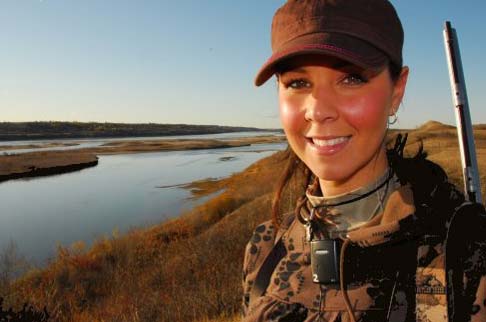 I am 24 years old and live in Saskatoon, Saskatchewan. My family has owned and operated Claypool's Boot and Jean, a western store in Saskatoon for over 50 years. Growing up within the western lifestyle and with both parents having a past in rodeo, I was drawn into barrel racing and horses. My dad, Arlee Claypool, has worked as a guide for Jim Shockey for many years and has always loved to hunt.
I have been involved in the hunting community with my father since I was very young. After the first time out in the field with my dad I was hooked. It wasn't until last fall (2007) that I had the opportunity to be drawn for mule deer and go on my very own hunt. My first deer turned out to be a gross boone and crocket deer. I had officially been bitten by the hunting bug. Hunting has become a new priority in my life, one that I would never have imagined. Technically, I have been spoiled more than most with my first big game animal therefore I have set the bar quite high in the trophy department. Thankfully, this is not the only aspect that drives my passion for hunting. Just being outdoors and experiencing the simplicity of nature gives me extreme satisfaction.
Hunting is a sport and hobby that I am so excited about. I look forward to all my future hunting experiences and sharing my passion for the outdoors with others who enjoy it as much as I do.