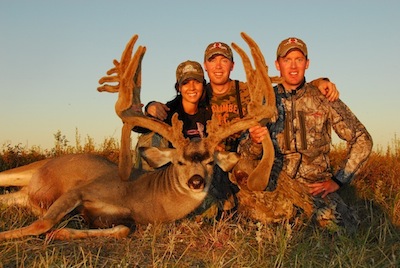 Today was the greatest day in my hunting career to date, and I have a feeling it will be a long time, if ever, before I beat it. I have been watching a big mulie all summer, since July 18th to be exact, and today I got him with my bow. Watching him in the summer, I knew he was a special animal, but I don't think I realized how special until walking up to him in the field this afternoon.
We rough scored him in the field and came up with numbers that are SCARY BIG… 294 5/8 gross and 290 net!!! Meaning this beautiful buck could very easily be the new WORLD RECORD archery mule deer. We will have to wait for sixty days to get him officially scored.
It's funny, someone made that comment that I wouldn't sleep tonight… I informed him how wrong he was, that I hadn't slept since the day I found him in July, and tonight I would sleep like a baby.
More of this story and pics will be out soon… Not sure where yet.