One of the biggest days in the Live2Hunt History books! Shane Hunter and I were on the search for a big mulie to go after at daybreak this morning. Shane's brother Lee was also out on his own snooping around to find something for us to pursue. Ten minutes after sunrise, Lee called to inform us he had spotted what he thought was the biggest nontypical buck that ever lived! Shane and I were instantly on our way.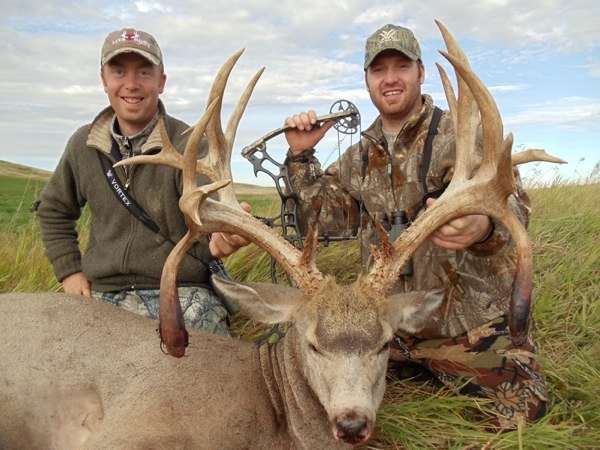 An hour later, we had the Vortex scope on the nastiest mulie any of us had seen in our lives. Shane was supposed to be the shooter, but when he saw how big this buck really was, he thought it would only be fair to give the guy who spotted him first crack… So, we waited and glassed the buck as Mr. Lee Hunter drove an hour away to buy his archery mule deer license. Once Lee returned, Shaner gave him a crash course on shooting his APA bow. Within another hour, Lee was a pretty solid shot with Shane's bow out to 30 yards, and plans for a stalk were in place. Shane, Lee and I snuck to within thirty yards of this dinosaur of a mammoth beast!!! After one hour of waiting in the weeds, this big old brute stood up and started browsing… Lee waiting for the buck to give him a good clear shot, he drew his bow and let it fly!… CLEAN MISS!!! Lee's arrow sailed by, just a bit low! The buck dropped the hammer, and ran out to 100 yards, and stopped to figure out what had just happened. Another buck stood up only twenty yards from us, he was a 200 inch typical with two extra points on one side. The typical buck walk over to the droptine buck, seemed to calm him down, then started walking RIGHT BACK TO US!!! The typical buck walked back past us again at forty yards, and the double droptine buck followed close behind!!! Lee drew his bow, and launched the second arrow… WACK! PERFECT HEART SHOT!!! The buck ran 70 yards and tumbled! I had the camera rolling right over Lee's shoulder for the whole affair, and the footage is absolutely crazy! This show will be without a doubt, the most popular episode we will ever air!!!

This mulie is the buck of all bucks, the most impressive on the planet!!! We roughly scored him at 238 7/8 B&C. We are lucky guys to experience what we did today.