Four days ago I made my way out to Dustin Flundra's place in southern Alberta. We have been spending our time trying to capture an elk hunt on camera with a lucky hunter Allan Troutman. Allan has waited eight years to yank the chance to hunt elk in Dustin's country.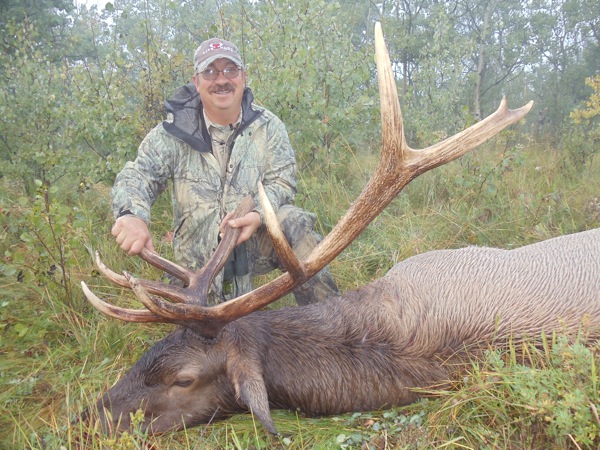 On Day one we got a glimpse of a monster bull in the early morning fog… As we moved in on him the wind shifted, and the bull pulled out before we got a shot.

Yesterday, Dustin called in two different bulls right on top of us! Allan elected not to shoot either of them, and wait for a bigger bull. The footage turned out great and gave us a great start to Allan's potential Elk show for 2011.

This morning we headed out on what could possibly be our last day to hunt…Right at first light we had a bull answer our call, from some heavy timber. We hiked half way to the bull, and Allan and I set up and waited while Dustin walked back in the direction we came, cow calling and snapping the odd twig… The bull walked in to view only fifty yards away!!! As soon as I zoomed up on him, he screamed into the lens!!! What a rush!!! The instant I focused on him, I could see that he had one antler busted off right at the base of his third point… I instantly thought Allan wouldn't shoot because of the missing horn… The bull was so close we couldn't communicate what so ever!… So, I just filmed the bull to capture some good footage of him… As I was filming, the concussion of Allan's gun nearly gave me a heart attack, and the bull dropped like a rock out of my viewfinder!!! Allan had seen the busted antler, but he was thrilled to have that bull put on such a show for us in the early morning mist!

This was a good lesson for me… Sometimes the experience is much more important than the size of the trophy.

It's now time to get home, and keep on with the archer muledeer season in Saskatchewan. My time spent here with my good pal Duster, and my new friend Allan was a perfect four days in Elk country.