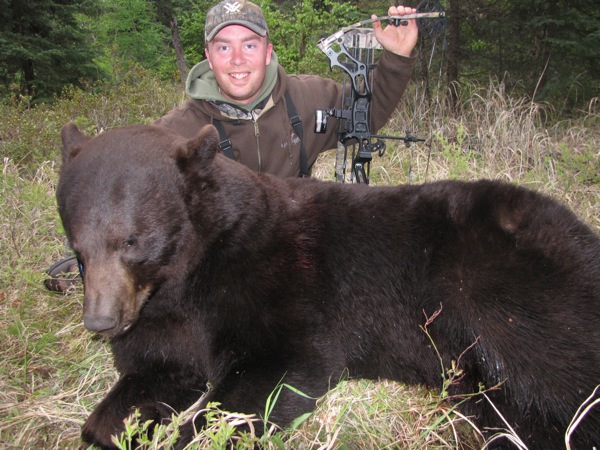 This past week I have been sitting in the bear cage with a special hunting partner. About a month ago I received a letter from a youngster that I would like to share with you all;

Dear Cody,

My name is Jordon Roberts I am 9 years old. I really like your show. I have been hunting with my dad and grandpa for 5 years now. I just got my first bow for my birthday and love to shoot it.

I was born with kidney troubles and had a kidney transplant when I was 2. I

aslo have a problem called PRUNE BELLY SYNDROME that I live with. I had the chance to make a wish through the Make a wish foundation but they won't allow me to hunt/atv which I love the best. I am going to disneyworld instead.

I would like to meet you and be able to join you on a hunt or something. I was

wondering if something like that would be possible or not because that would be my first wish that I would like to do.

thank you,
Jordon

After reading the letter, and taking in to consideration Jordon wasn't quite yet old enough to hunt, I invited him to hang with me as my sidekick in spring bear camp in northern Saskatchewan. After some telephone calls, plans for the trip were in place!

Jordon's family, cameraman Ron Colborn and I spent the last three days in our Bear Cage. Day one, we saw three bears, two black and one rubbed, red colored bear. We also saw a monster grey wolf that Ron captured some great video of at thirty yards!

Day two, we saw eight bears in total, but no big old boars. One sow with three cubs came within just a few feet of us in the bear cage (our blind).

Day three, 6:30pm, a pretty strawberry red colored sow came in. The same little sow that Kelsy and I had seen the week previous paired up with a monstrous chocolate colored boar with only three legs.

On the first encounter with the big chocolate bear, he stayed back in the shadows just barely keeping an eye on his partner, never coming into the clear to give me a shot. And finally getting a big wiff of us, he plowed a trench through the timber, back into the forest.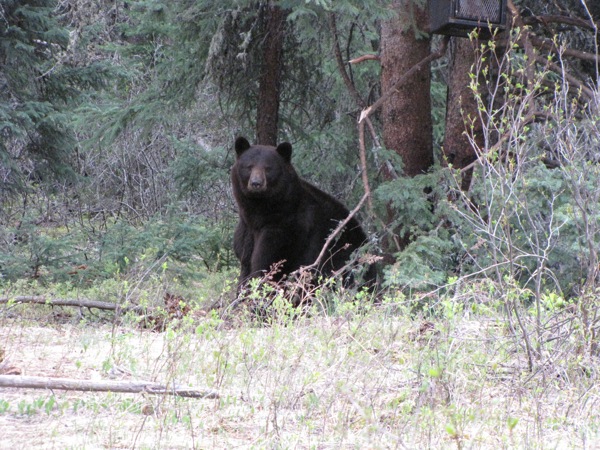 Not knowing wether or not he was still with this sow, I lectured everyone in the blind to be absolutely motionless and silent, just in case!…Five minutes passed before Jordon's mom Michelle pointed off to our far right… It was him!!! The three legged monster brown bear!!! he hopped around the edge of the clearing, still being very chinsy at giving me a shot. At fifty yards he sat on his bum and stuck his nose in the air for a good five minutes. Then, proceeded to skirt the edge of our meadow. The instant he was broadside I drew my bow, knowing if he offered me any kind of clear shot, it might be my only chance. He started hopping straight at us up to thirtyfour yards and stopped. To this point I had my APA bow drawn for almost two minutes!!! Again, he stuck in nose in the air and inhaled our scent! As he wheeled around to vacate the scene, I let my arrow fly, and my fletchings disappeared right on the mark!!

After finding this beautiful bear, we had a chance to see what was wrong with his leg. It looked to me that this may have been a birth defect where his one leg never completely developed. I could be wrong though, it might of been some type of injury, hard to say.

Things couldn't have worked out better, I had been hunting for a bear of this caliber for the last three years, with absolutely no luck. It's pretty cool that everything came together on the last night of Jordon's trip.

Ron captured the whole story on video, to create another episode for the show. I'm so excited about how this hunt turned out, I might bump it into the 2010 line up for this summer on Wild TV, instead of 2011.