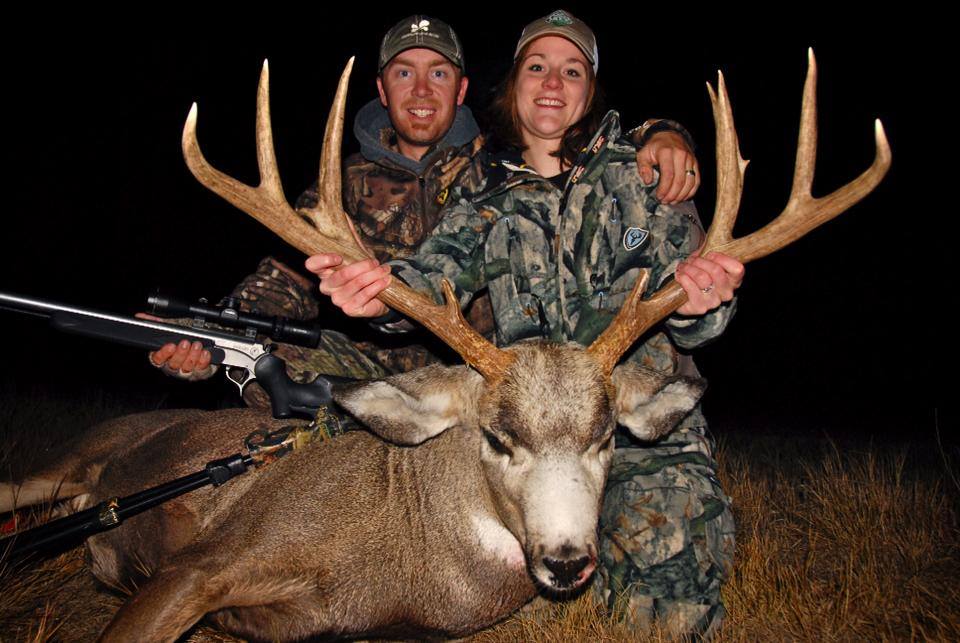 Yesterday morning Jeremi Skelton and bedded down an old friend... This incredible old buck is featured in our intro montage at the start of our show. He jumps the fence, in slow motion. That footage is from last years rifle season when my good friend Dave fuller passed him up.

Last winter Pat and Nicole from DRIVEN TV came up to go shed hunting with us... Nicole found this bucks left antler.

Jeremi and I finally found him after searching high an low, all fall.

Once we had him bedded, I called Rebecca Grona and asked her if she could leave work early for a chance at her first mulie buck. Rebecca drew a muzzleloader draw tag this year for the country we were scouting.

Seven hours after bedding him, Rebecca and her boyfriend Kyle showed up on the scene, after driving half way across Saskatchewan.

Five minutes after crawling in to position, this giant buck and three buddies rose to their feet for the evening and started browsing, making their way in our direction, only 50 yards away. The footage is SO EXCITING!!!! A 180" typical buck walked through a window an stopped to rub his face and antlers on a licking branch!!! Rebecca had a clear shot, but wanted to wait for the wide buck at the back.

After ten minutes waiting for the first three bucks to pass by and the giant wide buck to come though, they all turned and trotted straight away from us, over the hill... We picked up and hustled after them! We snuck right up behind the big guy, finding a rest on a dead willow only 70 yards away!!! I bleated and this smoker buck slammed on the breaks and turned to give us a look!!!! His over 30" rack was skylined!!! I was zoomed right up on him, with Rebecca's shoulder and barrel in the corner of the frame... A HUGE CLOUD OF SMOKE BELLOWED INTO THE SCREEN!!!!! The buck jumped, kicked and ran over the hill a hundred yards before cratering!!!

This was Rebecca's very first stalk on a mule deer!!! WHAT A RUSH!!!!! This is going to be an amazing show for next year!!!

Today we are getting our meat ready for the fine folks at BACK COUNTRY BUTCHERING in Cowley Alberta. Can't wait to get our sausage and jerky back!!!!!!!!!! IT'S SO GOOD!!!!